Siddharth Mukherjee, the well-known oncologist and author, describes this disease in his epic biography of cancer, The Emperor of All Maladies. In this vivid description of a leukaemia cell, Mukherjee says, "The cells look bloated and grotesque, with a dilated nucleus and a thin rim of cytoplasm, the sign of a cell whose very soul has been co-opted to divide and to keep dividing with pathological, monomaniacal purpose… Normal cells are identically normal; malignant cells become unhappily malignant in unique ways."
Thank you for reading this post, don't forget to subscribe!
Blood cancer is a disease that can strike at any age. Though this cancer tends to strike largely amongst children, the middle-age and the old are by no means exempt from it.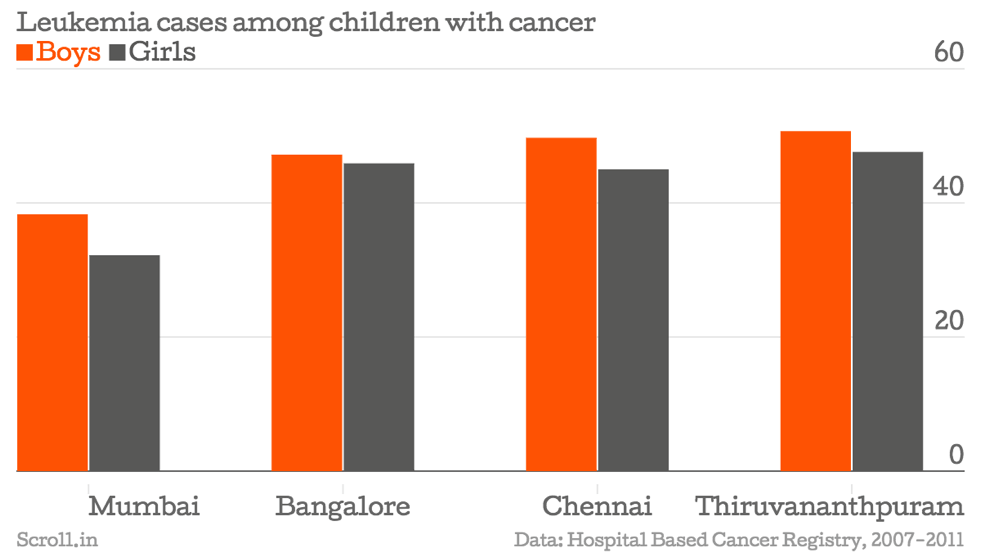 It's insidious, creeps up on the victim and spreads its tentacles to every part of the human body, since it is literally in the blood. This type of cancer is related to our blood cells and is known as leukaemia. For this type of cancer to flourish, our bone marrow produces abnormal cancerous blood cells that push out normal and healthy blood cells, thus affecting the whole body. Approximately 10,000 cases of childhood leukaemia have been reported in India. That is 60 to 85% of the total number of this type of cancer.
There are different types of leukaemia, depending on which type of blood cell has turned cancerous. White blood cells are more prone to becoming cancerous than red blood cells (RBCs) and platelets. Leukaemia can be acute, chronic, Lymphocytic or Myelogenous. It mostly occurs in children younger than 15 and in adults older than 55. The treatment depends on the blood cells affected and whether it is acute, chronic, Lymphocytic or Myelogenous. Generally, chemotherapy is the treatment of choice.
Fighting two adversaries: The disease and waiting for a bone marrow transplant
The rising number of blood cancer patients looking for transplants has overwhelmed government and private hospitals and institutions. They just can't keep pace with the demand…the wait for a transplant has been known to take up to a year, if not more, by which time it's much too late for some patients…
A case in point: 32-year-old Shabnam got her blood tested, in her hometown near Kolkata. The pathologist recommended that she go to Mumbai. Shabnam's brother, a senior manager in a coffee chain in Mumbai, got an appointment at a reputed private hospital in the city. "Once they told us it was cancer, we rushed to Tata Memorial," said Shabnam's father. "It was earth-shattering."

Shabnam had acute myeloid leukemia. For four months, in 2012, she was given chemotherapy. Six months after the treatment had been stopped, she had a relapse. Shabnam needed a bone marrow transplant. She was sent to the Advanced Centre for Training, Research and Education in Cancer, in Khargarh, a satellite institution of the Tata Memorial Hospital. Shabnam's donor was her brother whose stem cells matched. But there were no beds available in ACTREC. She was put on a waiting list. The delay meant increasing pain and distress, and rapidly increasing expenses.
A few months later, Shabnam went in for her transplant. But complications set in, and two months later, she succumbed to myriad infections. "The treatment cost us almost 45 lakhs," said her father. "I spent all my pension and savings on her. Yet I could not save my daughter."

Time is the enemy…
ACTREC is not the only hospital witnessing a steady rise in patients seeking treatment for blood cancer. Thousands crowd the waiting rooms, corridors and consulting cubicles, from morning to evening on weekdays, at the Rotary Cancer Hospital of the All India Institute of Medical Sciences and the Haematology Department of the Christian Medical College Hospital in Vellore, Tamil Nadu. Most of them go for bone marrow transplants, where a patient's diseased bone marrow is replaced by healthy stem cells. It is used to treat malignant as well as non-malignant blood disorders such as thalassemia, aplastic anaemia and bone marrow dysplasia. The demand for the transplants is so extreme that patients have to wait for months, sometimes running into years.

Cancer in the blood
Haematological cancers typically cover Hodgkin's and non-Hodgkin's lymphoma (blood cell tumours), various types of leukaemia (blood cancers) and multiple myeloma (cancer of plasma cells). India has the third highest number of haematological cancer patients in the world after the US and China, according to GLOBOCAN 2012, says a report from World Health Organization's International Agency for Research on Cancer.
Among the top 20 cancers affecting Indians (ln 2012), leukaemia ranked nine. Approximately 32,000 men and women in India that year were affected by this dread disease, which caused 26,000 deaths. Non-Hodgkin's lymphoma ranked 13, with 23,000 new cases and 16,000 deaths.

Dr Sushant Mittal, Consultant, Medical Oncology at Artemis Hospital in Gurgaon had this to say, "Data collected in India is inadequate. During my practice at Artemis, no government official has ever approached us seeking (to know) how many incidents, how many deaths or any other data. I am not sure if the hospital sends it to the registry on its own."
The waiting lists – a promise of hope denied
Despite increasing numbers of centres and doctors, there is no reduction in the waiting lists at major transplant centres in the country. Doctors have to make informed decisions on which patient gets a transplant based on various criteria such as age and previous treatment history. A patient who responds well to chemotherapy "will benefit more from the BMT than one whose disease is active," said Dr Mallik, a leading oncologist. "Chances of infections and transplant-related complications such as GVHD – Graft Versus Host Disease – are higher in an active-disease patient."