There are many reasons for a patient to be cared at home even to an extent an Intensive Care Unit is needed to be setup at home. Accessibility to a hospital, availability of 3 FUNCTION ELECTRIC COT, extended stay in ICU care, monetary considerations, patients kin not able to stay at hospital, visitor timing restrictions, etc are some of them. So, in situations like these, what is the best alternative other than get the same ICU Care At Home And Critical Care At Home in Banglore. Yes, this is possible and right here in Bengaluru. ICU dependent patients need not agonize over their inability to get admitted for ICU care or how to keep away from hospital environment. For those ICU dependant patients https://www.emergencycaresolution.com/ comes to the rescue.
Thank you for reading this post, don't forget to subscribe!
ICU Care At Home And Critical Care At Home in Banglore needs specialized service providers as every individual ICU patients requirements are different and the type of setup, treatment model, analysis, equipments and consumables vary. Hence this requires a team of specialists who are knowledgeable on the subject i.e., doctors, physiotherapists, nurses, system technicians and attenders who together plan the facility and care. For eg., a heart patients ICU care is different from a kidney or lung patient care which require different parameters to adhere to. Emergency Care Solution facilitates top class ICU care at home with the best equipments and services at par with ICU care facilities available at leading hospitals.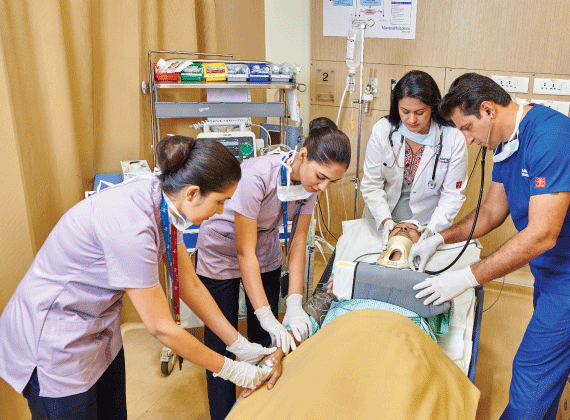 ICU care at home involves trained professionals, apart from the medical apparatus, who are dedicated and compassionate towards the patient and their kin as it involves a different atmosphere unlike hospitals. Moreover, periodic counseling need to be given for home ICU care patients and attenders on handling various situations that may arise. Continuous monitoring, periodic checks, gathering and reporting of medical data ensure timely action and faster recovery of patients. Saamipya home ICU care unit delivers all this and more for the successful recuperation of your loved ones.
Looking for a Home ICU Care! Call Emergency Care Solution for your Welfare!